OEE DataWatch, LLC, is an automation system integration company that applies decades of system integration and engineering expertise to design and deliver high-performance automation solutions to manufacturers. OEE DataWatch works in partnership with proven industry leaders who share the vision of helping manufacturers take control of their equipment and processes to create a more efficient production environment with minimal downtime, high production quality, and optimum overall equipment effectiveness. 
OEE DataWatch Services include:
GenesisMaxim integration with new equipment or existing control upgrades

Integration of new devices into existing control systems

Siemens TIA Portal and WinCC Advanced 

Rockwell Studio 5000 

Indusoft Web Studio
GenesisMaxim data assembly and distribution 

ANDON display programming for overall equipment effectiveness (OEE), lean manufacturing, downtime, scrap reduction, diagnostic system graphs
Total machine design and fabrication, including controls and automation software (Solidworks Modeling)

Integrating new and/or existing machinery to a central control and data acquisition point

Startup support
OEE President & Design Engineer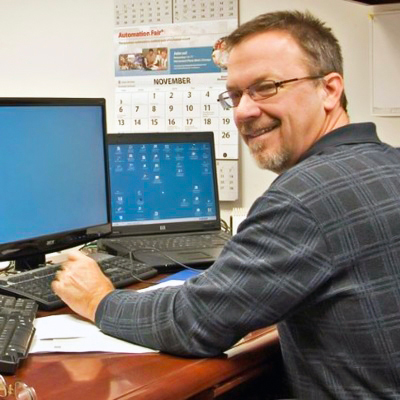 Brian Rajotte, OEE DataWatch president and design engineer, founded OEE DataWatch, LLC, in 2018 after responding to a need within the manufacturing industry for an affordable, universal automation solution. By applying 25 years of system integration experience and more than 30 years of expertise as an electronics design engineer, and with the support of industry-leading partners, Brian designed the GenesisMaxim Equipment Monitoring and Control System and successfully introduced it into the manufacturing environment. The industry insight evident in the GenesisMaxim is attributable to Brian's extensive professional training, certifications, and accomplishments that include working with some of the world's premier manufacturers, including Morton Salt, the Boston Globe, Maybelline, and the Atlas Paper Company.
To learn more about Brian, view his LinkedIn profile.
Before onboarding with OEE, Jean-Pierre "JP" Mulley was an independent consultant, helping clients in manufacturing, IIOT, healthcare, and government develop and improve their sales and marketing, product management, and data analysis. Prior to consulting, JP worked for Minitab, where he served in sales, marketing, product management, and professional services and as chief products officer—a position he held for seven years. As a result of his experiences, JP has an intimate understanding of the challenges and complexities involved in collecting data that enables meaningful analysis. Mulley earned an economics degree from Carnegie Mellon and holds a Six Sigma Black Belt from the American Society for Quality.
To learn more about JP, visit his LinkedIn profile.