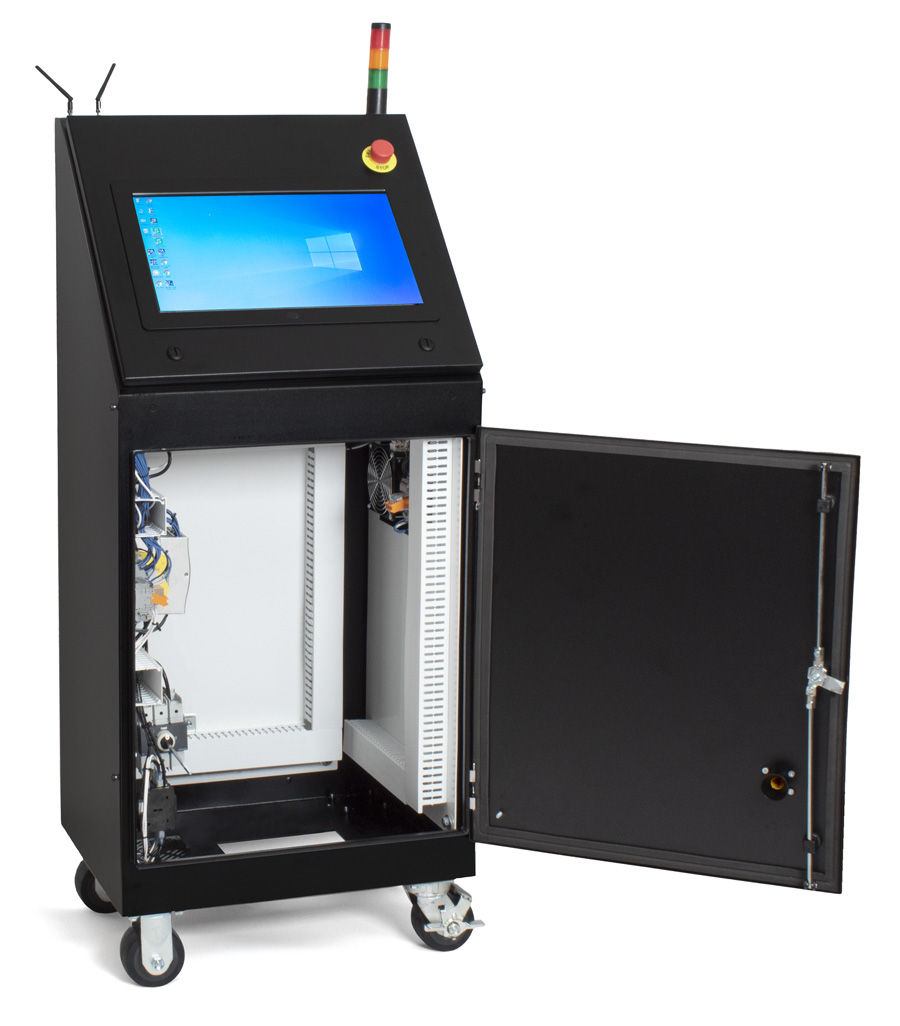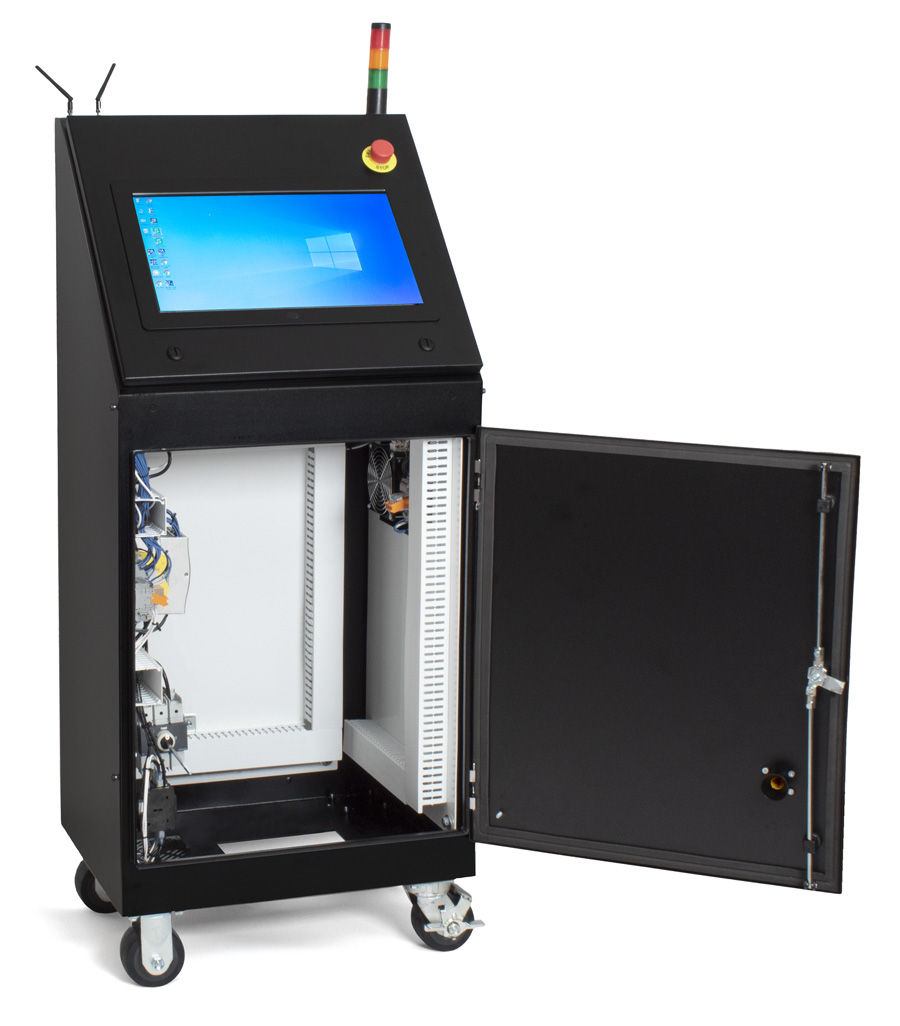 A Revolutionary New Way to Bring Affordable Automation to Manufacturing
The UAK1000 Universal Automation Kiosk is a customizable plug-and-play automation system that delivers powerful SCADA capabilities to virtually any manufacturing line. The system combines standardized, state-of-the-art PLC and PC power with preconfigured software that allows manufacturers to integrate automation right out of the box with no schematics and minimal engineering required. The result is automation for approximately half the cost of traditional, highly engineered, overly complex one-off systems.
OSHA Compliance & Safety Built-In
All UAK1000 software and controls are housed in a low-voltage compartment in the top of the kiosk, while a separate compartment at the bottom of the kiosk houses electrical components. This allows operators to gain safe, easy access to controls for troubleshooting live automation without the need for personal protective equipment or lockout/tagout. Meanwhile, the electrical compartment remains locked and requires system shutdown and lockout/tagout for entry. This design complies with OSHA requirements for operational safety.
Simplified Coding, No Schematics, Minimal Engineering
The I/O coding of the UAK1000 translates to the standard resistor color code, and the coding matches the PLC tags. This unique numbering system enables fast setup. It also easily directs an operator from a device to its corresponding active line of code within the controls software, thereby simplifying the location, connection, and troubleshooting of any I/O.
Safe, Secure Data Access
The PC component of the UAK1000 displays process data screens, logs and manages data, and securely delivers process information to authorized personnel from any location via an internet-ready device. The PC is equipped with two (2) ethernet cards and a dedicated IP address that limits communication to one-way, out-only data streaming, so process data is secure.
Remote Troubleshooting
The cyber-secure internet communication of the UAK1000 can allow both in-house operators and OEE Datawatch support personnel to remotely troubleshoot and service the system from anywhere with an internet-enabled device. This capability minimizes system downtime and gets production back up and running in a fraction of the time required by traditional automation systems that are burdened with propriety components and require specialized expertise for maintenance and repair.
Complete Start-to-Finish Support
OEE Datawatch supports every automation project from initial quote and programming through installation and automation on the factory floor. Support includes free access to OEE's growing library of online training tutorials that are designed to place owners and operators in complete control of their automation system. OEE engineers are also available after delivery to assist with kiosk setup, maintenance, and troubleshooting.
The Efficiency of Standardization
All OEE DataWatch kiosks use standard hardware and software components and an internal configuration that are consistent from one unit to the next. This standardization streamlines the process of setting up, operating, and maintaining multiple kiosks across the plant floor. It also relieves manufacturers of the burden of supporting a wide range of different control systems, technologies, and components.
T301 UAK1000 SCADA Manual Screen
T302 UAK1000 SCADA OEE Data Screen
T201 UAK1000 PLC Addressing
T104ASC UAK1000 Analog Software Configuration Training
T104 UAK1000 Analog Input and Output Training
T103 UAK1000 Digital Outputs Tutorial
T102 UAK1000 Digital Input Training
T101 UAK1000 Fusing Tutorial
The UAK1000 Universal Automation Kiosk is designed around a Siemens S71200 Series PLC and a 7th Gen I7 PC with SSD Drive and a 19″ touchscreen display running Windows 10 Pro. Automation is provided by Siemens Portal Software (license included) and SCADA is delivered via Wonderware Indusoft Web Studio software.
PLC: Siemens S71214C
7th Gen I7 PC with SSD Drive and 19″ touchscreen display
OS: Windows 10 Pro
Siemens Portal Software (license included)
SCADA: Wonderware Indusoft Web Studio
32 inputs/32 outputs, 8 analog inputs, 4 analog outputs and 4 high-speed counter inputs
40″ ANDON display
Manual operating/configuring screen and OEE/process data screen included
SIL E-stop
Wireless keyboard and mouse
Wi-Fi enabled
Solid-state fuses programmable from 1-10 amps
One-year warranty
Movable interior light strip provides handy light source to clearly view all areas inside the cabinet
Convenient interior power strip with surge protection safeguards PC operations
Fan with temperature sensor monitors and dissipates heat in lower electrical compartment
Industrial wheels allow kiosk to easily roll onto the factory floor to desired location
Wheels can be replaced with legs that can be bolted to the floor for permanent placement
Ergonomic cabinet height for added comfort, ease of use
Shelf for keyboard and mouse
Built-In OSHA Compliance
Traditional automation systems place the burden of OSHA compliance and safety on the manufacturer, which unnecessarily results in longer lead times and larger financial investments in automation solutions. The UAK1000 eliminates this needless burden and expense for manufacturers with an out-of-the-box design that has OSHA compliance and safety built in.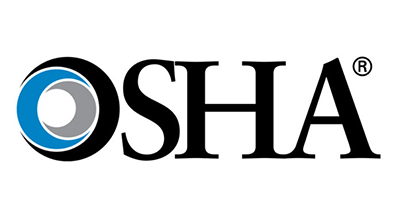 Top-to-Bottom Safety
The UAK1000 Universal Automation Kiosk is designed with two separate locking compartments, top and bottom. All low-voltage software and controls are conveniently housed in the top compartment, while a separate compartment at the bottom of the kiosk houses the AC electrical components.
Troubleshooting without PPE or Lockout/Tagout
With the high-voltage electrical components housed separately in a compartment below the low-voltage software and controls, operators can gain safe, easy access to controls for troubleshooting live automation without the need for personal protective equipment or lockout/tagout. Down below, the high-voltage electrical compartment is locked at all times and requires system shutdown and lockout/tagout for safe entry. This dual-compartment configuration provides an automation solution that complies with OSHA requirements for operational safety right out of the box.
SIL E-Stop Circuit
Every UAK1000 includes an E-stop that connects to a SIL relay with built-in redundancy. This feature provides remote shutdown capability to protect the safety of line operators in an emergency. Additional E-stops can be easily added to safeguard additional lines and equipment as needed.
How to Get a UAK1000 Universal Automation Kiosk
The UAK1000 Universal Automation Kiosk is thoughtfully designed for fast, easy integration into your manufacturing process from the moment you request a quotation all the way through delivery, installation, and beyond.
Step 1: Request a quotation.
Getting a quote is easy. Simply complete the online quote request form and an OEE Datawatch representative contacts you to begin the process.
Step 2: Complete the OEE Datawatch Project Setup Form.
OEE Datawatch provides a simple, easy-to-follow form for defining I/O tags on the manufacturing line and works with you to create a process flow chart. Once complete, the setup form and flow chart are then submitted to OEE Datawatch and screen programming for your UAK1000 begins.
Step 3: Allow approximately 1 to 2 weeks for UAK1000 programming.
Up to 40 hours of programming time are included with your UAK1000 kiosk. Once complete, your kiosk is delivered pre-configured for PLCs and programmed for manual operation.
Step 4: Take delivery of your UAK100 Universal Automation Kiosk and install it on your factory floor.
Your UAK1000 is delivered to your manufacturing site programmed for manual operation and ready to begin automation of your line. All I/O is pre-configured and guaranteed correct from the start.
After-the-Sale Support
OEE continues to support the integration of your UAK1000 Universal Automation Kiosk after you take delivery with support services that include:
Installation Assistance
The UAK1000 is designed for fast, easy setup by your personnel; however, we recognize that sometimes issues arise that you may need help resolving. OEE Datawatch provides complete support during the installation and integration of your new kiosk until the system is up and running.
Free Training Resources
OEE Datawatch offers an ever-expanding library of free online training resources, including videos and instruction manuals, to quickly and easily train your in-house personnel on the fundamentals of operating your UAK1000.
Troubleshooting & Diagnosis
Your UAK1000 includes cyber-secure internet communication that can allow your in-house personnel and OEE Datawatch to provide troubleshooting and diagnosis support from anywhere in the world with an internet-enabled device.
Readily Available Parts
Because the UAK1000 is a plug-and-play solution, its component hardware and software are widely stocked and readily available from the vendor of your choice and often at a 20 percent lower cost than traditional proprietary components.
Warranty
The UAK1000 Universal Automation Kiosk comes with a one-year warranty, guaranteeing the system against all mechanical and electrical defects.
Find out how the UAK1000 Universal Automation Kiosk can benefit your company.